Research shows beech seed-fuelled rat plagues are a key cause of bat population decline.
​
We can't move bats to pest-free sites. So, without pest control they are likely to become extinct.
Bat numbers on the increase after long-term pest control

We have controlled pests in the Eglinton valley in Fiordland for the past 15 years.

A mix of traps and poison bait stations has kept pests down. Over this time the monitored long-tailed bat colony has increased four-fold.

Aerial 1080 was used for the first time in 2014 to combat a rat plague.

We tracked the bat colony after 1080 treatment. No adverse effects on the bats were found and colony continue to grow.

Annual survival of long-tailed bats, Walker colony, Eglinton valley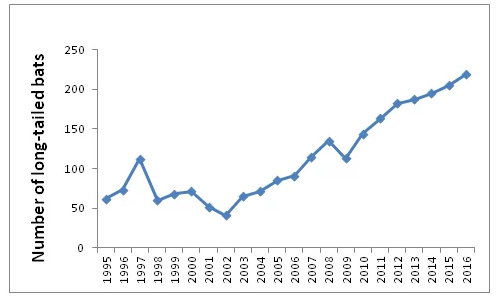 Short-tail bats also on the rise
Numbers of the rare southern short-tailed bat in the Eglinton valley are also on the rise.
The Eglinton is the last known South Island mainland site for this bat subspecies, which is also found on pest-free Whenua Hou/Codfish Island.
The population of short-tailed bats has grown from about 300 to more than 3000 in 2018 since predator control began more than a decade ago.
As a result, the status of this species moved from 'threatened' to 'recovering' in the
review of the threat classification of New Zealand bats in March 2018
.
We tracked short-tailed bats after 1080 treatment in 2014. The following summer the annual survival rate was 91%. This is well above the average survival of 83% with other forms of pest control.
Our researchers counted a record 2,947 bats flying from a single roost tree in January 2018.