Founders of Friends of Flora Inc.

Having spent 21 years as owner/operators of a conservation guiding business in Kahurangi National Park (now sold), we have consistently seen the effects before and after a 1080 application, and have no doubts about the value of this method of pest eradication. We have witnessed time and again the return of birdsong within one breeding season after 1080 is used.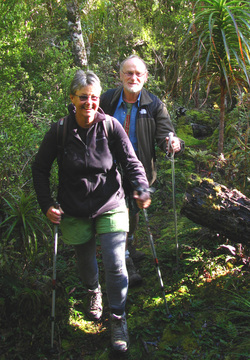 We are founders of a major volunteer conservation trapping project, Friends of Flora Inc (2001), on the eastern flanks of Kahurangi NP. This group protects an area of approx. 8,500 ha with over 1,125 traps. After 13 years our bird data shows no species has gone backwards in numbers, but neither have any markedly increased, apart from slight yearly variations in a couple of species. We now realise our trapping project is a good maintenance project, but trapping alone will not bring back bird numbers, nor bring back a healthy ecosystem (flora and fauna). Friends of Flora believes we need a regular aerial 1080 operation (approx every 3-4 years), with our traps being the back up in between. Trapping alone can never be a frontline defense against the 'big 3' – possum, rats and stoats. At this time, the only tool we have to do this is 1080.

Our trapping programme is huge, but it still only amounts to just over 1% of Kahurangi NP. We know what it takes to resource the project with funding monies and more importantly, volunteers. Most volunteer conservation projects which are in-situ in national parks such as ours, tend to be well away from highly populated areas, therefore our base for resourcing volunteers is very low. This is an ongoing problem in NZ.

A huge part of our trapping area received an aerial application of 1080 in Nov 2013. Within this area the bird numbers were noticeably higher after their first breeding season without mammalian predation. Our translocated kiwi which are all transmitted, not only survived, but some pairs successfully incubated young, and we had a bumper breeding season with our whio on the Flora Stream.

We are out to save our native biota – we don't have any hidden self-agenda regarding 1080. We (and Friends of Flora) wouldn't support if we had any evidence it was killing the very birds we are trying to protect. We see aerial 1080 as the best method we have at this stage to protect our flora and fauna on a large scale like Kahurangi National Park.