Stuff.co.nz

Kokako in the Hunua Ranges don't appear to have bred successfully during the 2014/15 season.

A population of endangered kokako in the Hunua Ranges near Auckland has suffered a serious blow due to rising pest numbers.

Results from the 2014/15 breeding season show no new chicks and four missing breeding pairs.

The results are much worse than expected, and high numbers of pests such as rats and stoats are to blame, Auckland Council said.

"This year's results are dismal with no fledging success at all and, of even greater concern, signs that adult birds have been lost," biodiversity manager Rachel Kelleher said.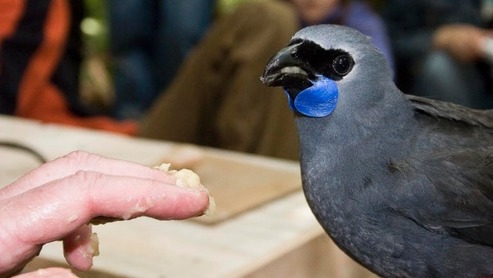 The council closely monitors six pairs of kokako in the Hunua Kokako Management Area (KMA), an 1150 hecare area set aside in 1994 to protect a small remnant population of the birds.
This year monitoring was expanded to observe five additional pairs which have settled outside the pest-controlled area.
"Unfortunately, four of the five pairs we've been following outside the KMA appear to be missing altogether," Kelleher said.
Because of the increase in pest numbers in the Hunuas the council will conducts an aerial drop of 1080 this winter.
Two to three kilograms of cereal pellets containing 1080 will be dropped per hectare. This amounts to about one teaspoon of the poison per hectare, the council said.
Local councillor Bill Cashmore described the loss of the kokako as "heartbreaking".
"Not only are we seeing treasured and threatened species like kokako affected by rats stealing from nests or adult birds predated by stoats, the wider forest is suffering," he said.
When the KMA was set up there was only one breeding pair of kokako left in the Hunuas.
A pest control programme was put in place and birds were added from other sanctuaries to increase genetic diversity.
The aim is to build the population to 50 breeding pairs by 2020.
Current pest control methods are not effectively controlling pest numbers, the council said.
By MARIA SLADE
For more information click
here