Marlborough Express

A rat plague could be the end of the long-tailed bats native to the Pelorus Bridge Scenic Reserve, a conservation volunteer says.

Giant rats feeding on dropped seeds from the reserve's beech trees had caused an explosion in rat numbers threatening a population of tiny endangered bats roosting in the area.

It prompted Forest & Bird to roll out trapping and baiting of rats, stoats and possums this month to help protect bats.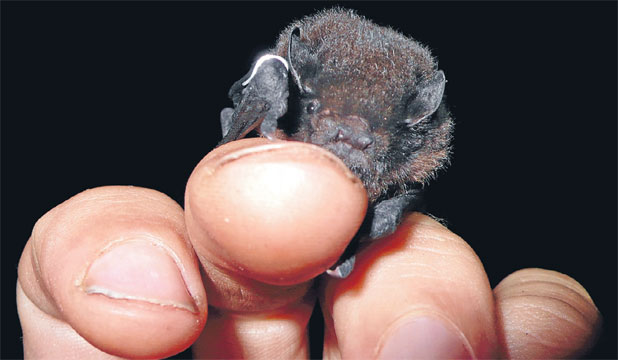 The endangered long-tailed bat native to Pelorus Bridge Scenic Reserve could be under threat from an exploding rat population.
The reserve is home to one of the last remaining populations of long-tailed bats in Marlborough.

On warm summer evenings, bats can sometimes be seen at twilight, circling high in the canopy or flying along the Pelorus River.

Pelorus Bridge Bat Recovery Project volunteer co-ordinator Jenny Easton said they had been trapping four times the normal number of rats. "These are big rats. They . . . must have been crossing around the forest floor eating everything in sight."

With the support of the Department of Conservation, the project rolled out a toxin-baiting programme in addition to trapping work. On one trap line alone, 12 rats were caught.

"If we didn't trap and poison these predators, the bat population could decline until the population is no longer viable."

Easton said it had been the worst beech mast she had seen.

"In summer all the flowering beech forest and other trees drop seed which proves really good tucker for rats," she said.

"The Mt Richmond Forest Park backs on to the Pelorus reserve. There hasn't been a 1080 drop there and all the rats, possums and stoats keep invading the Pelorus."

The long-tail bat was particularly vulnerable at this time of year when it gave birth. "A long-tail will put its baby in a little crevice high up in a tree. The trouble is rats are agile enough to climb a tree, and will put their paws into the crevice and kill the bats."

With high numbers of rats, Easton expected numbers of their predator, the stoat, to step up. With plenty of food, stoats can over-ovulate, leading to a big litter of 13 stoats, she said.

More volunteers are desperately needed to help with trapping. To help out, contact jennym.easton@gmail.com