The Dominion Post


THE Department of Conservation is in the middle of one of its biggest pest control operations, spreading 1080 pellets across more than 600,000 hectares of conservation land.
Along with the logistics of managing such large-scale operations, scientists are busy out in the field, keeping an eye on native birds.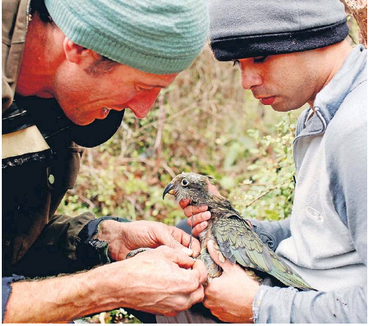 DOC scientist Graeme Elliott said a range of monitoring work was going on as part of this year's Battle for Our Birds operations, to gain a better understanding of how the ''baddies'' of New Zealand forests – rats, stoats and possums – affected our native birds.
''We know that lots of forest birds are killed by baddies, and we know we can do a good job at killing pests with tools like 1080.''
What remained was to clearly document the benefits gained by removing the pressure of predators, he said.
Long-term monitoring in areas with and without pest control uses audio recorders to capture bird calls, which are analysed in a laboratory. But the results are slow to come by, and Elliott said other work had highlighted more immediate information.
Cameras have been set up at the nests of some of the key species of interest to see if they are targeted by pests.
The monitoring had thrown up surprises, Elliott said.
''We thought kea were so big that their only problem would be stoats and possums.''
But recent footage had shown rats sneaking in to take eggs, including one where the female kea was not far away. ''That's a brave rat, you have to say.''
Weka, however, were surprisingly ''bombproof'' while sitting on their nests. The male and female took turns incubating the egg, so there was always an adult around to chase off any interlopers.
''You've got to be a very brave predator to take on a weka on its nest. But when their chicks hatch . . . they're real suckers for getting killed,'' Elliott said.
While controlling predators did not have much effect on weka nest success, it affected the survival of chicks once they started heading out into the world on their own.
One of the more dramatic examples was robins in the Marlborough Sounds. Without pest control, the birds have about a 20 per cent nesting success rate. ''The nests tend to fail a few days after you find them,'' Elliott said.
But following 1080 operations, that figure shot up to 80 per cent, ''which is about as good as you can expect''.
Elsewhere, birds have been fitted with radio transmitters to monitor individual survival during 1080 operations.
''We were worried about morepork, because we thought they might be killed by 1080,''
Elliott said, since the birds eat rats and mice which might have been killed by the toxin.
However, more than 70 morepork had been monitored in recent years, including in Southland and the West Coast, and none had died from the poison.
Elliott said that result was surprising. "It kind of suggests the mice go and do their dying in their dens."
Previous work had found high rates of predation at morepork nests by stoats and possums, so this year there was a focus on monitoring the native owls, he said.
At Lake Paringa, a small lake in South Westland about 30 kilometres north of Haast, 13 females were being monitored.
Elliott said the first had just started nesting, and the others should soon follow suit.
DOC staff would be keeping a keen eye on the Paringa birds to see how they fared throughout the coming season, he said.