What is 1080?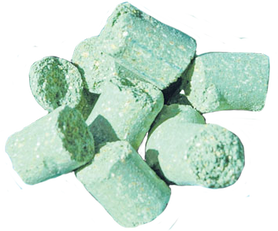 Manufactured 1080 (sodium fluoroacetate) is a poison used to create a toxic bait product, which is primarily dispersed from helicopters throughout selected native bush in New Zealand to knock down populations of possums, rats and stoats. These predators
threaten the survival
of many of our native animal and plant species. It is also used to help control the spread of
bovine tuberculosis
, a disease carried by possums which can infect cattle and deer herds which threatens one of New Zealand's prime export markets.
1080 is the 'salt' form of the naturally-occurring toxin, fluoroacetate

[1]

, found in several poisonous plants around the world such as Brazil, Africa, in 40 plant species in Australia [2], and at very low concentrations in New Zealand's native puha [3].
Plants have developed it as a natural defence against browsing mammals, and some insects that feed on these plants have developed mechanisms to store the toxin and use it as a defence against prey [4].
The mechanism of toxicity for both naturally-occurring fluoroacetate and 1080 in bait is the same. The 'salt' form of this toxin is more water soluble, and so readily formed into bait products [5].
It is manufactured for use in various types of baits for pest control operations and is highly toxic to mammals in particular.
The science of how 1080 works
---
What effect does it have on our environment?
1080 bait is highly water soluble and naturally breaks down in the environment into harmless substances through the process of biodegradation and dilution [6].
It does not accumulate or leave permanent residues in soil, plants, in water or in animals [7].
The time it takes for an animal that has ingested a non-lethal dose of 1080 bait to metabolise and eliminate it will depend on the species and dose.
In general, concentrations will reach their highest and start dropping in just several hours or days, and are eliminated completely within 7 – 14 days [8].
Why is it used in New Zealand?
1080 bait has been used on a small scale in a number of countries, including Australia, the United States and the Galapagos Islands (Equador) [9], but its use has been limited because of the need in these countries to protect native mammals. New Zealand, however, unlike almost all other countries, has no native land mammals (except bats), but a very large number of introduced, highly destructive mammalian pests, including possums, rabbits, rats, stoats, ferrets and feral cats [10].
Why do we aerially apply 1080?
Ground control is very important, but it can't be used over the vast tracts of native forest in rugged country where there is no control of possums, rats and stoats. In particular, in years when there is abundant seeding (masting) in forests you need to be able to knock down rats and stoats very quickly and effectively. This can't be done with ground control.

Aerial 1080 kills all three of the big pests (stoats, rats, and possums) at the same time, making it much cheaper than ground control where up to three different control methods are needed.


Have there been serious and credible scientific studies on aerial 1080 use?

There is a clear and credible scientific body of evidence that aerial 1080 is very effective at killing possums, rats and stoats and increasing populations of native species. There have also been studies on the risks associated with 1080 use, showing these are very small.
---
[1] Fisher, P. (2008). Brief of evidence given before the Waitangi Tribunal in the matter of the Whanganui Enquiry (Wai903).
[2] Green, W. (2004). The use of 1080 for pest control. A discussion document. Published by the Animal Health Board and the Department of Conservation. Retrieved from www.doc.govt.nz.
[3] Ogilvie, S.C., Miller, A., Ataria, J.M., Waiwai, J., Doherty, J. (2009). Uptake of 1080 by Watercress and Puha - Culturally-Important Plants Used for Food. Lincoln University Management Report No.49.
[4] Eason, C., Miller, A., Ogilvie, S., Fairweather, A. (2011). An updated review of the toxicology and ecotoxicology of sodium fluoroacetate (1080) in relation to its use a pest control tool in New Zealand. New Zealand Journal of Ecology, 35(1), 1-20.
[5] Fisher, P. (2008). (Refer to ref 1).
[6] Parliamentary Commissioner for the Environment Dr J. Wrights (2011). Evaluating the use of 1080: Predators, poisons and silent forests.
[7] Ibid.
[8] Ibid.
[9] Eason, C. et al. (2011). (Refer to ref 4).
[10] Green, W. (2004). (Refer to ref 2).